Here at Q-System, we offer a wide range of belt conveyors within our Q76 series, designed to meet various transportation and sorting needs. Our belt conveyors ensure smooth and gentle handling of goods, especially when precision and gentle treatment are required.
The Q76 series includes horizontal, inclined, and declined belt conveyors, as well as curves designed to handle light, medium, and heavy goods. With these versatile units, we can design tailored solutions for your specific requirements.
Our belt conveyors come with optional drum or gear motors according to customer preference. The standard motor placement is on the right side, and the belt speed can be adjusted to your preferences. By default, the conveyor is equipped with a smooth, green PVC belt with a special sliding surface, but we can also provide custom belts as needed. The belt conveyor can be combined with other standard components such as Q60/67 and customized to your specific requirements.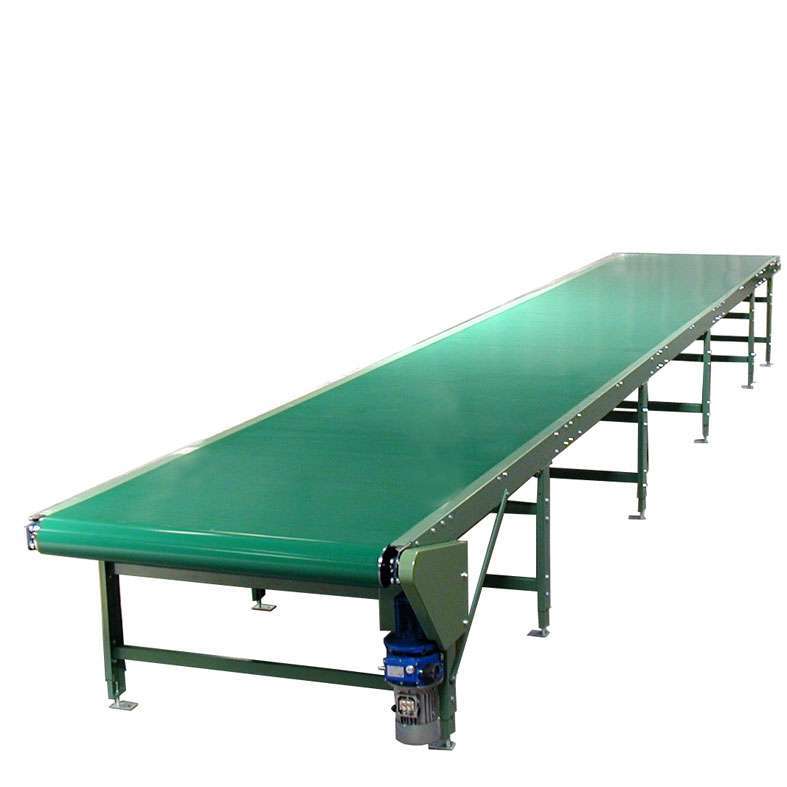 Belt Conveyor
Belt conveyor is delivered with drum, or gear motor according to customer's request.
Standard motor placing on the right side.
Speed of the belt is adjusted according to the customer's wishes.
As standard, the conveyor is provided with green, smooth PVC tape with a special sliding base, but can be delivered with special tape according to task.
The belt conveyor can be combined crosswise, with other standard components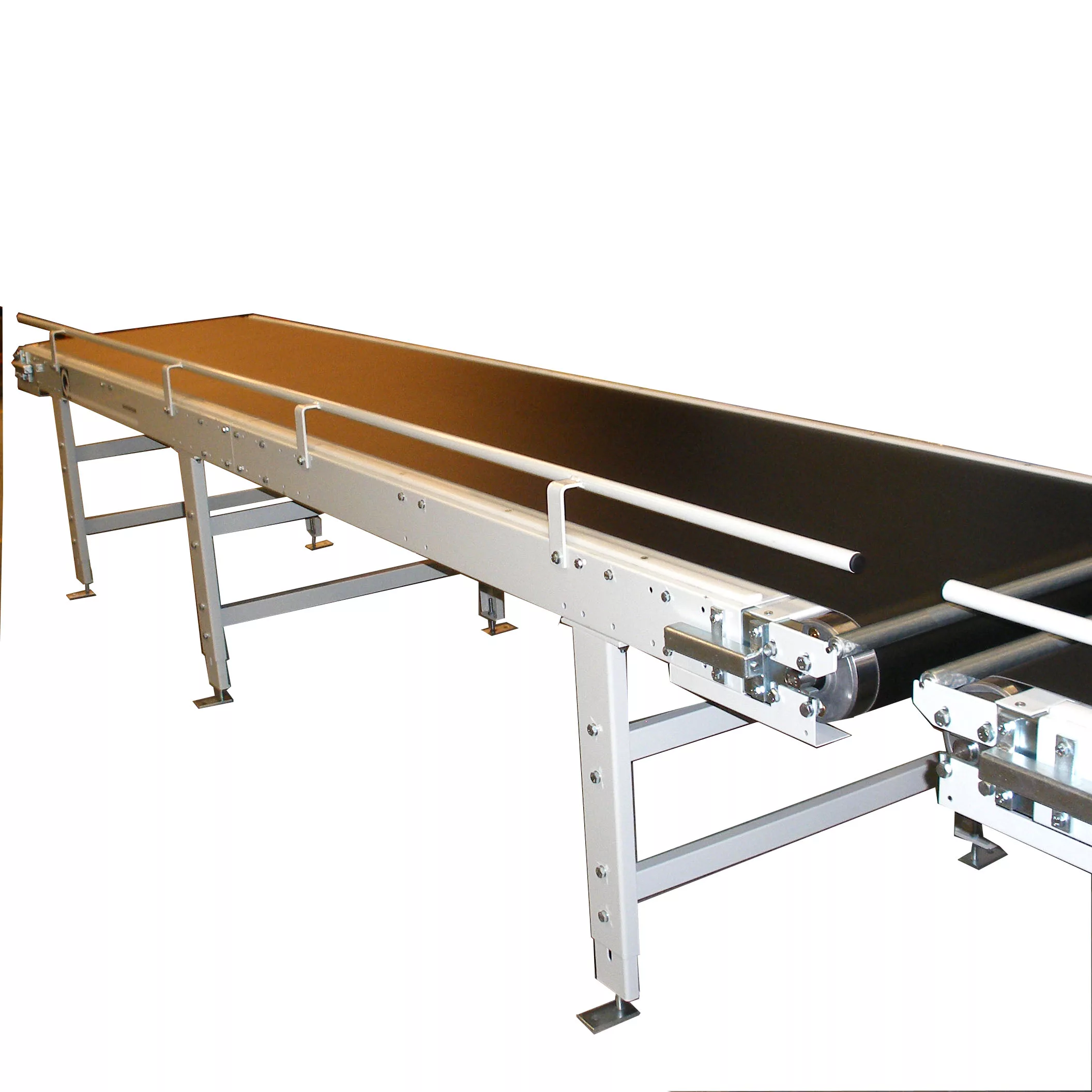 Belt conveyor with side guide
The belt conveyor with side guides is a specially designed variant of our standard belt conveyor, created to provide extra precise control and positioning of goods during the transportation process. This conveyor is ideal for applications where accurate and reliable placement of goods on the belt is required.
Our Belt Conveyor with side guides is equipped with side guides. These components work together to keep the goods centered on the belt and prevent any sideways movement or deviation.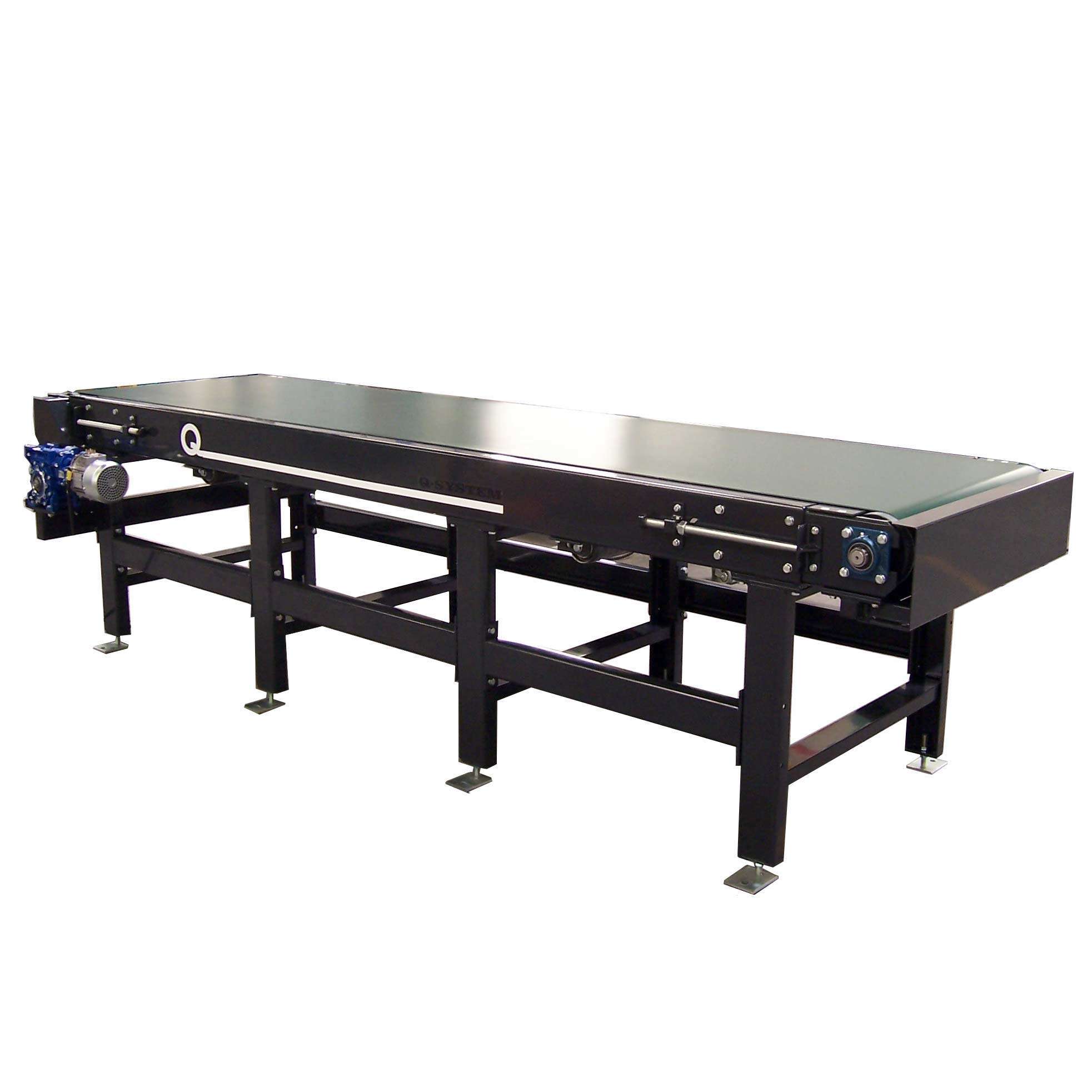 Belt conveyor with gear motor, heavy model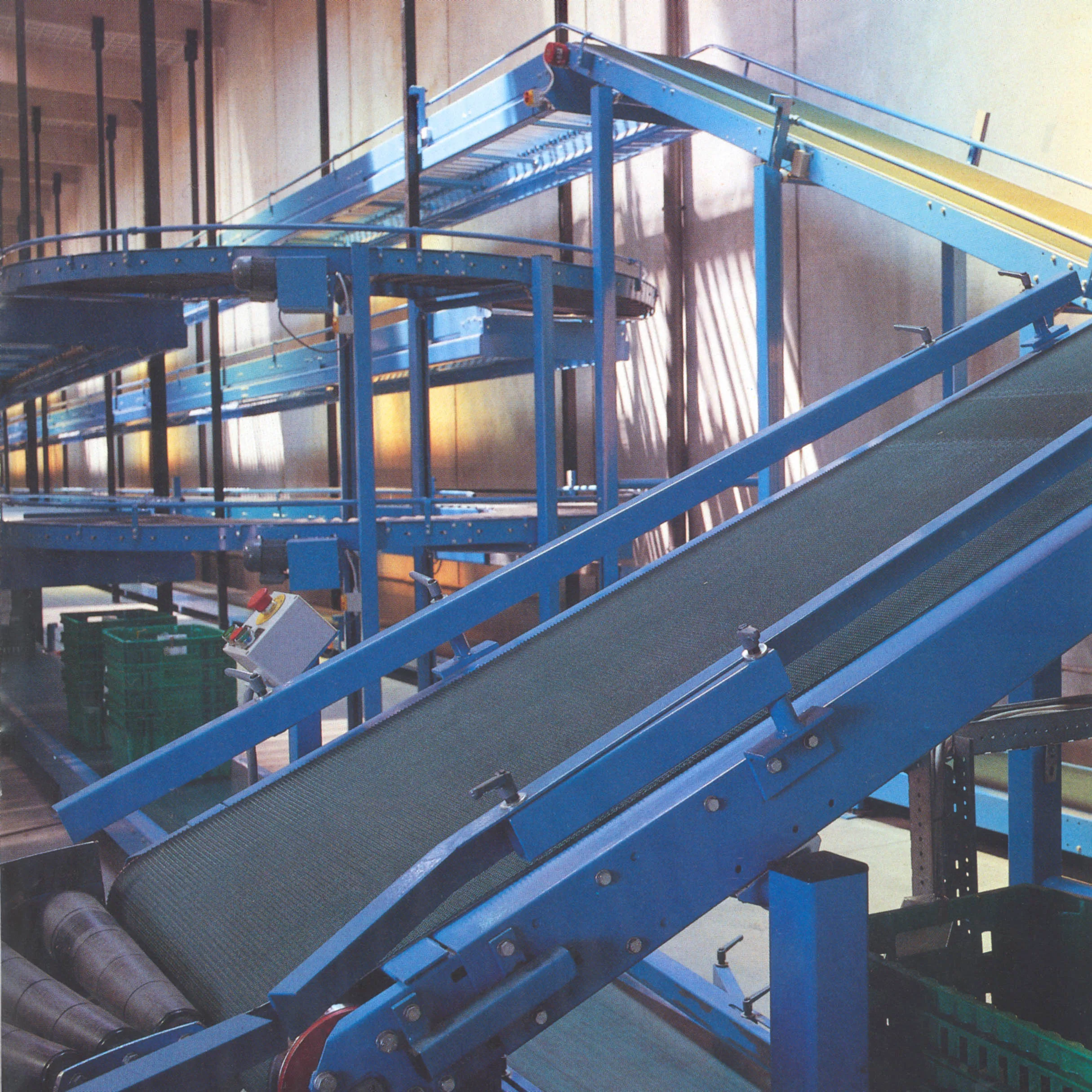 Combination of rising and horizontal belts with curves
The belt conveyor can be set to different pitch angles adapted to the type of material, dimension and application method.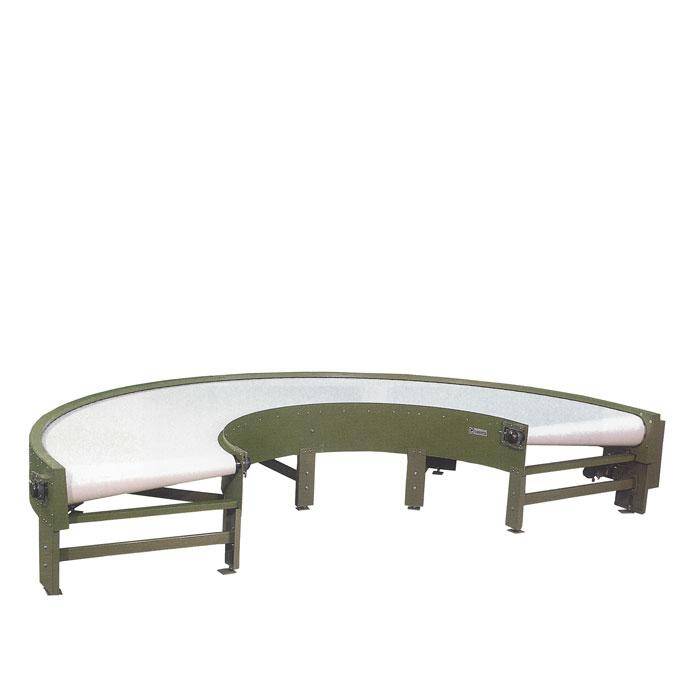 Belt conveyor curve
Delivered as 45 °, 90 °, 135 ° and 180 ° curves for assembly with straight belt conveyor for light and medium transport.
Tape speed is adjusted according to the customer's wishes.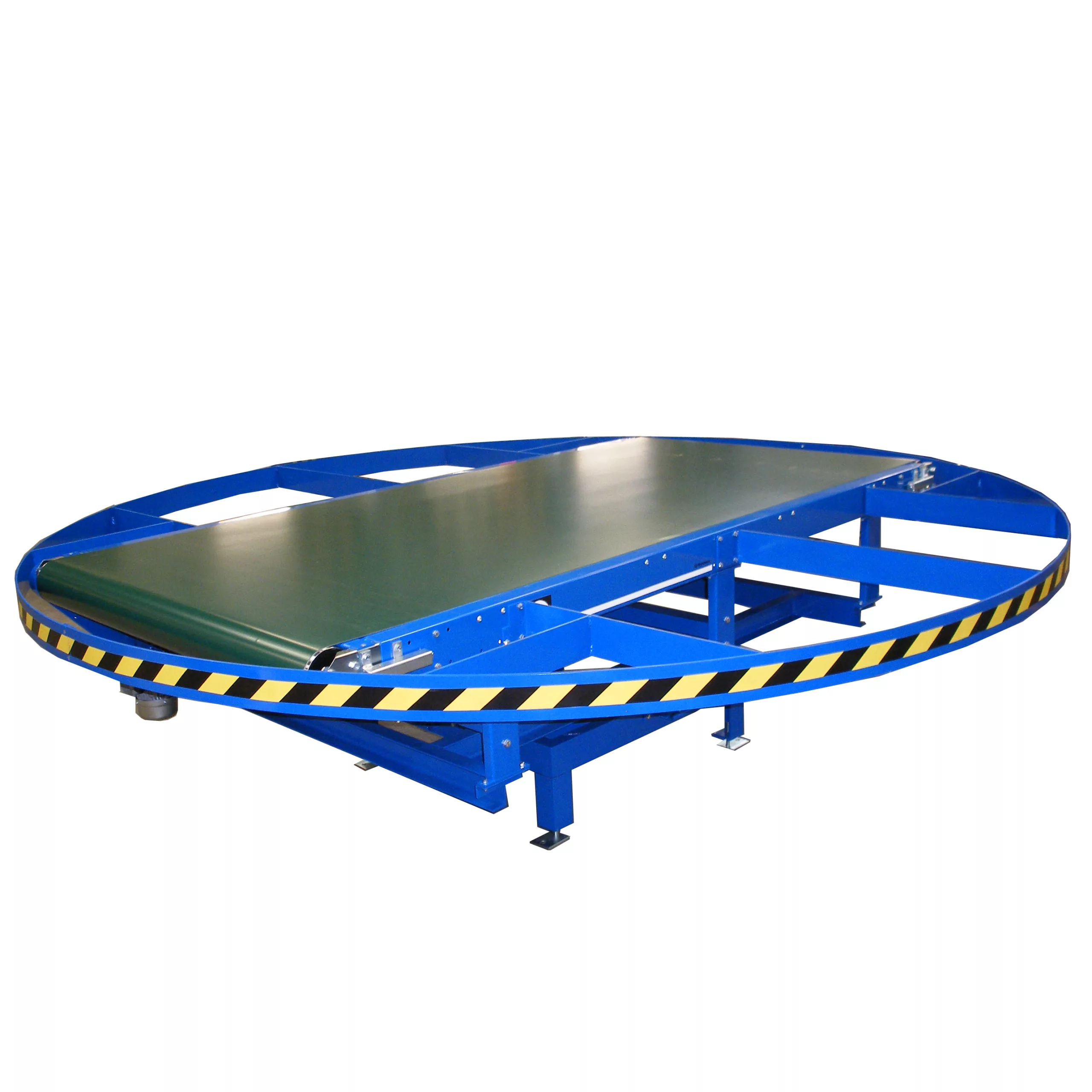 Turntable with belt conveyor
Our turntable with belt conveyor is an efficient and versatile solution for the transportation and rotation of goods. It combines the benefits of a belt conveyor and a turntable into one unit, enabling seamless and flexible handling of goods in various industries.
The turntable is designed to rotate the goods in the desired direction, while the belt conveyor ensures smooth and steady transportation during the rotation process. This is particularly useful in situations where maintaining the direction and position of the goods during transportation is important.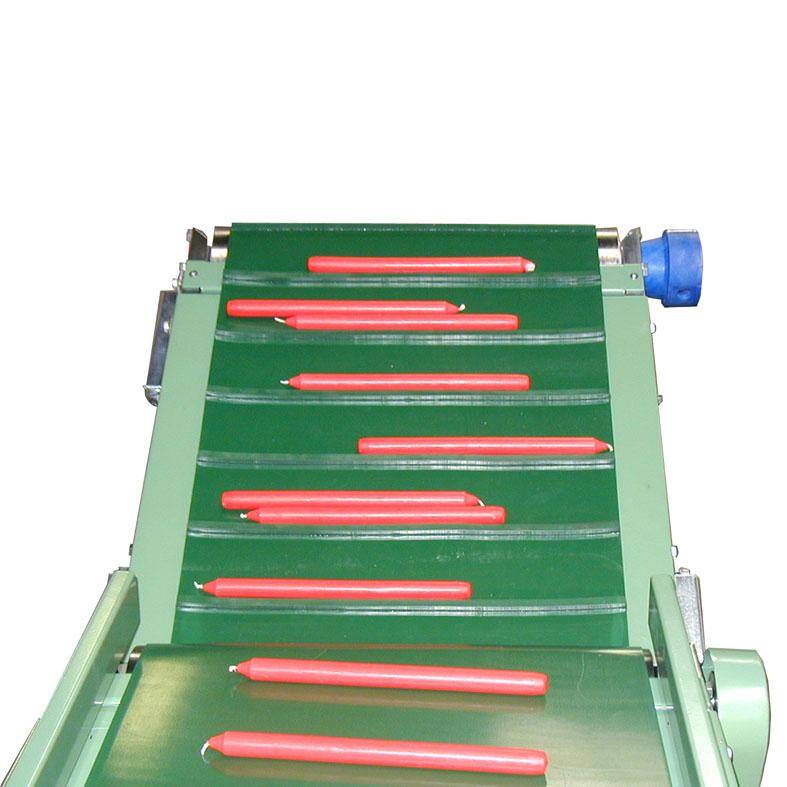 Inclined conveyor with carriers
Our inclined belt conveyor with cleats is a specially designed variant of our inclined belt conveyor, engineered to handle goods with irregular shapes or items that require extra stability during transportation.
This type of belt conveyor is ideal for applications where vertical or upward transport of goods is required while securely holding them in place.
Cleats, also known as bafflers or cleats, are attached to the belt and act as small raised sections that grip and secure the goods during transportation.
Our inclined belt conveyor with cleats is suitable for a wide range of goods, including the example of candles shown in the image. The shape and positioning of the cleats can be customized specifically to the characteristics and requirements of the goods to ensure reliable and secure transport.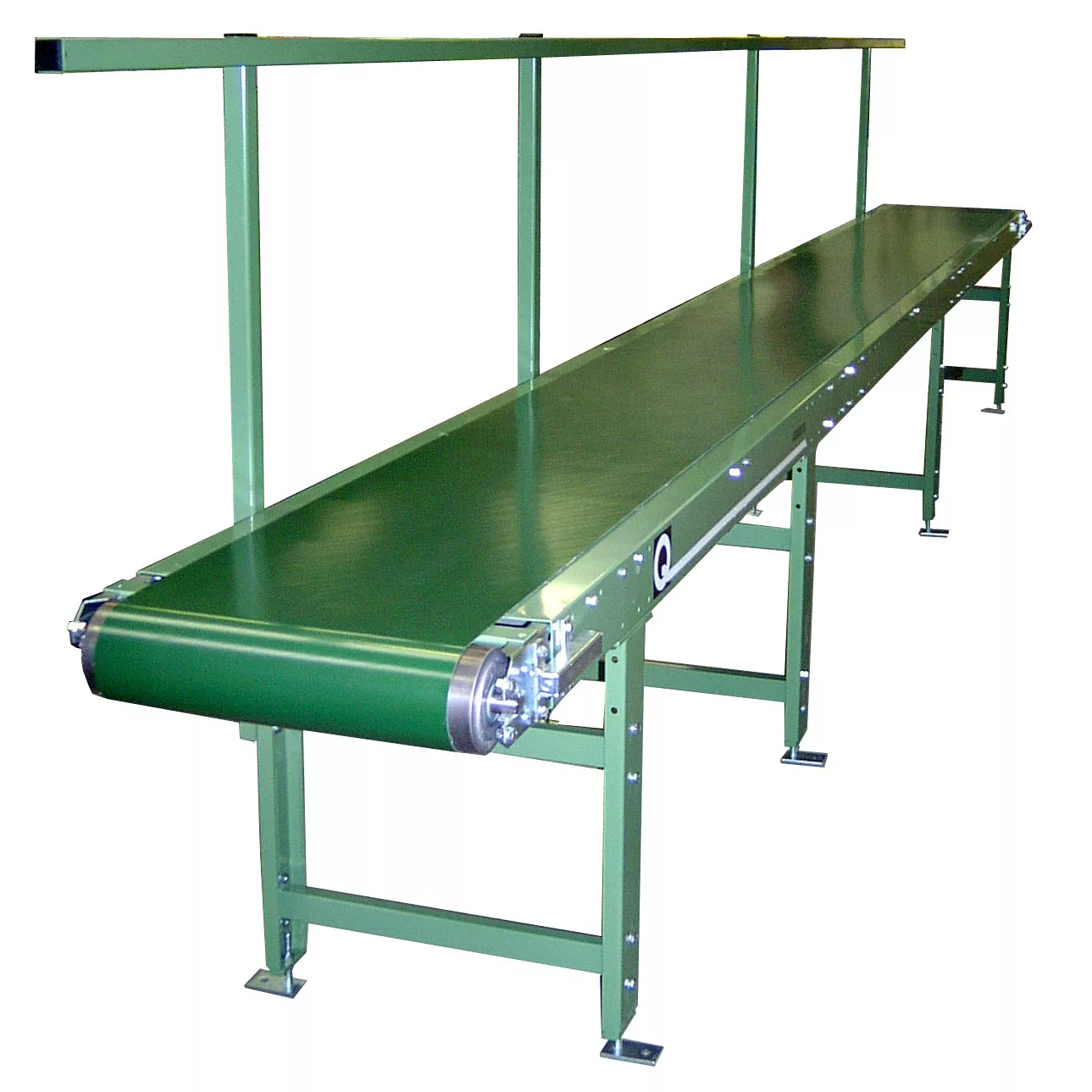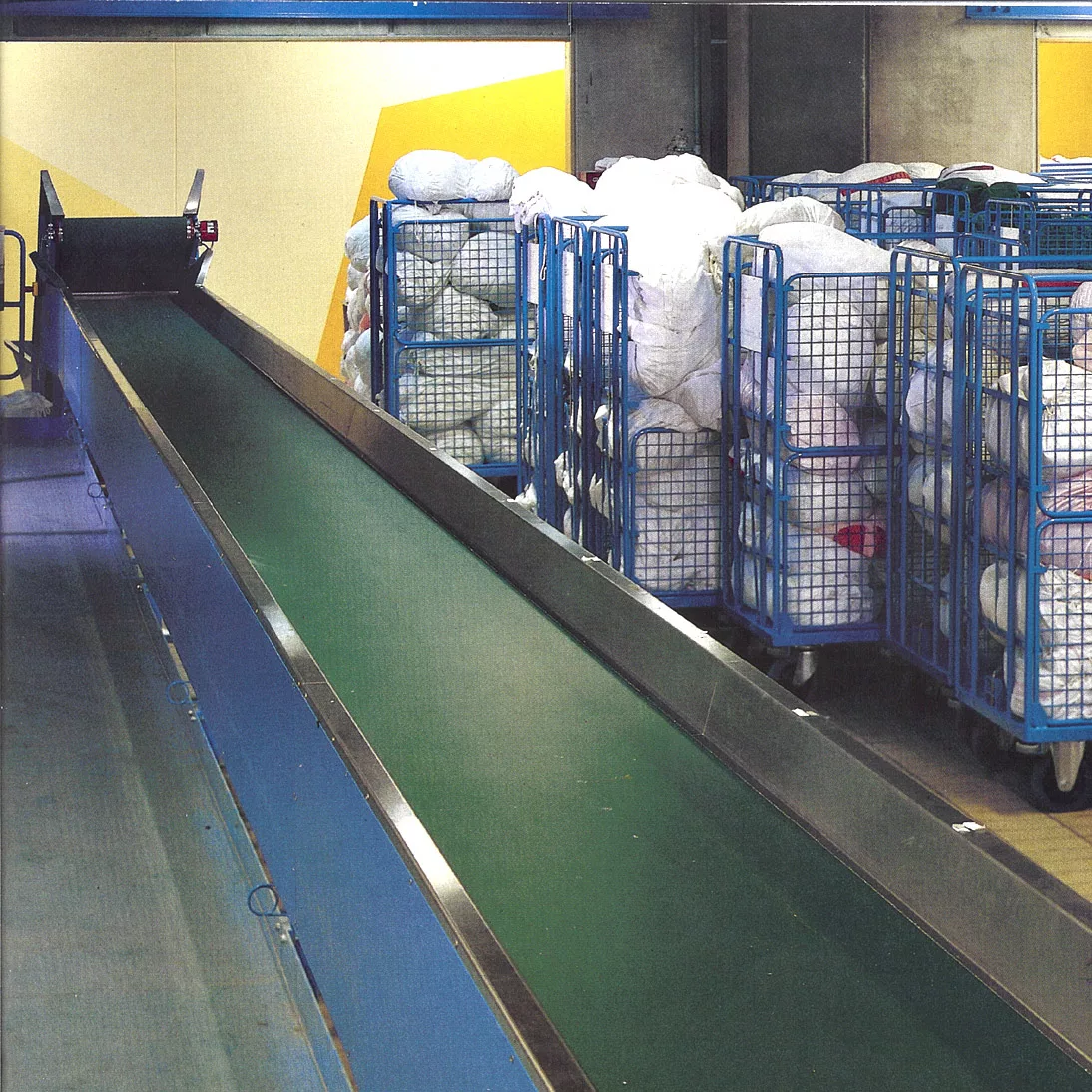 Sorting belt
Easy to use and equipped with protection panels.
The conveyor belt is delivered with smooth green or smooth white taste- and odor-free PVC belt and is therefore approved for use in, for example, the food industry.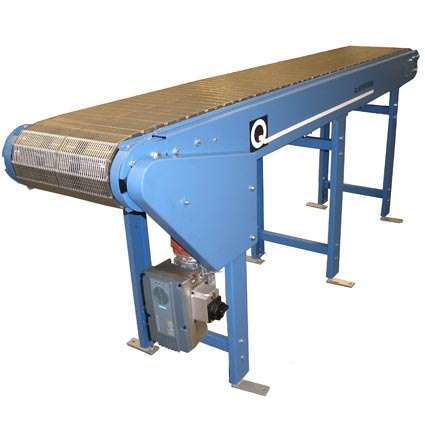 Belt conveyor with steel belt