Non-driven conveyor system for medium-heavy goods
Here at Q-System, we have developed a conveyor system for medium-heavy goods, including the transportation of pallets and stacks with or without transport plates.
Our system consists of a wide range of standard components that can be combined in various ways. This allows you to move, extend, and shorten conveyor lines, as well as add new modules such as turntables, lift tables, or curves.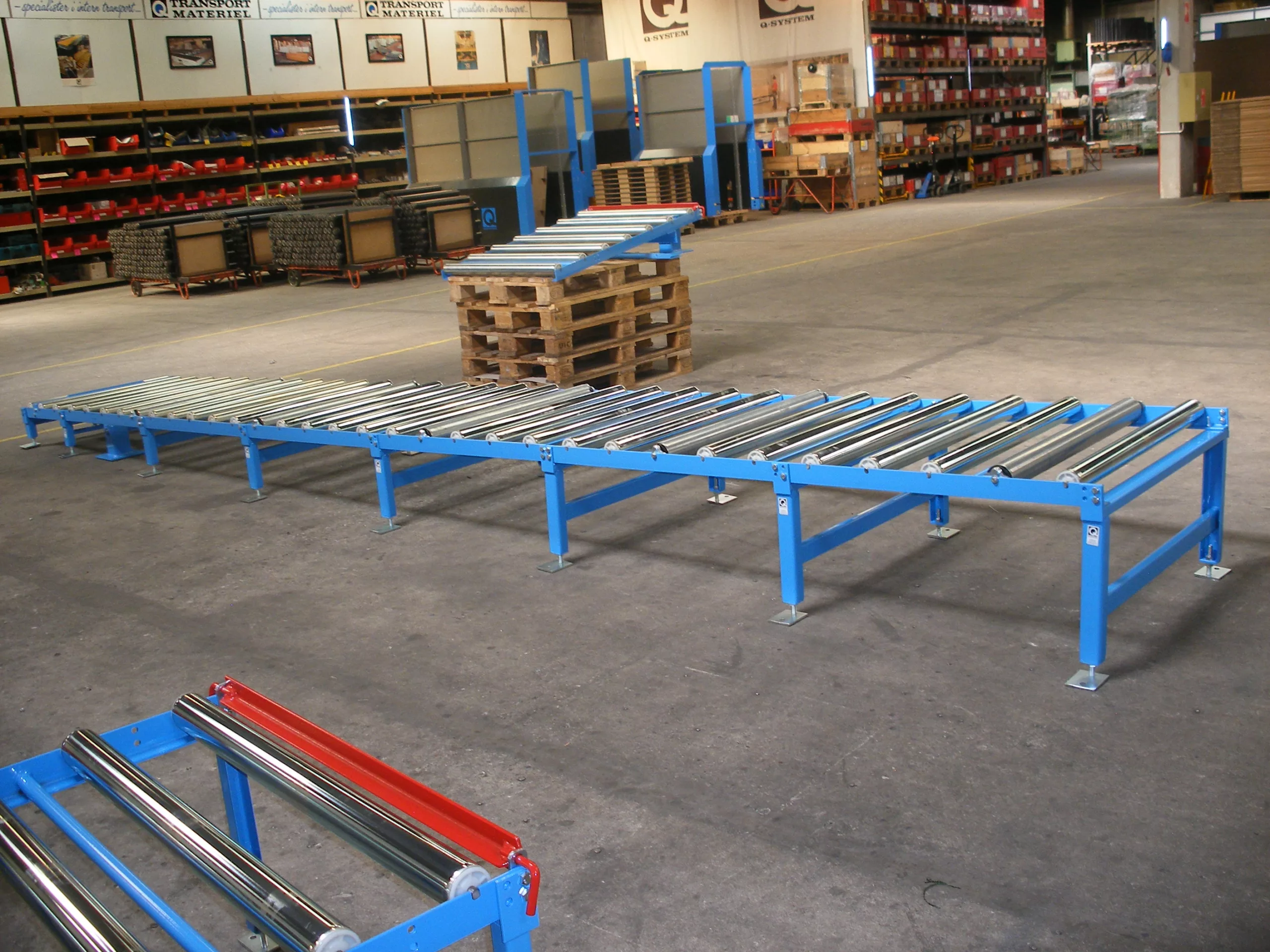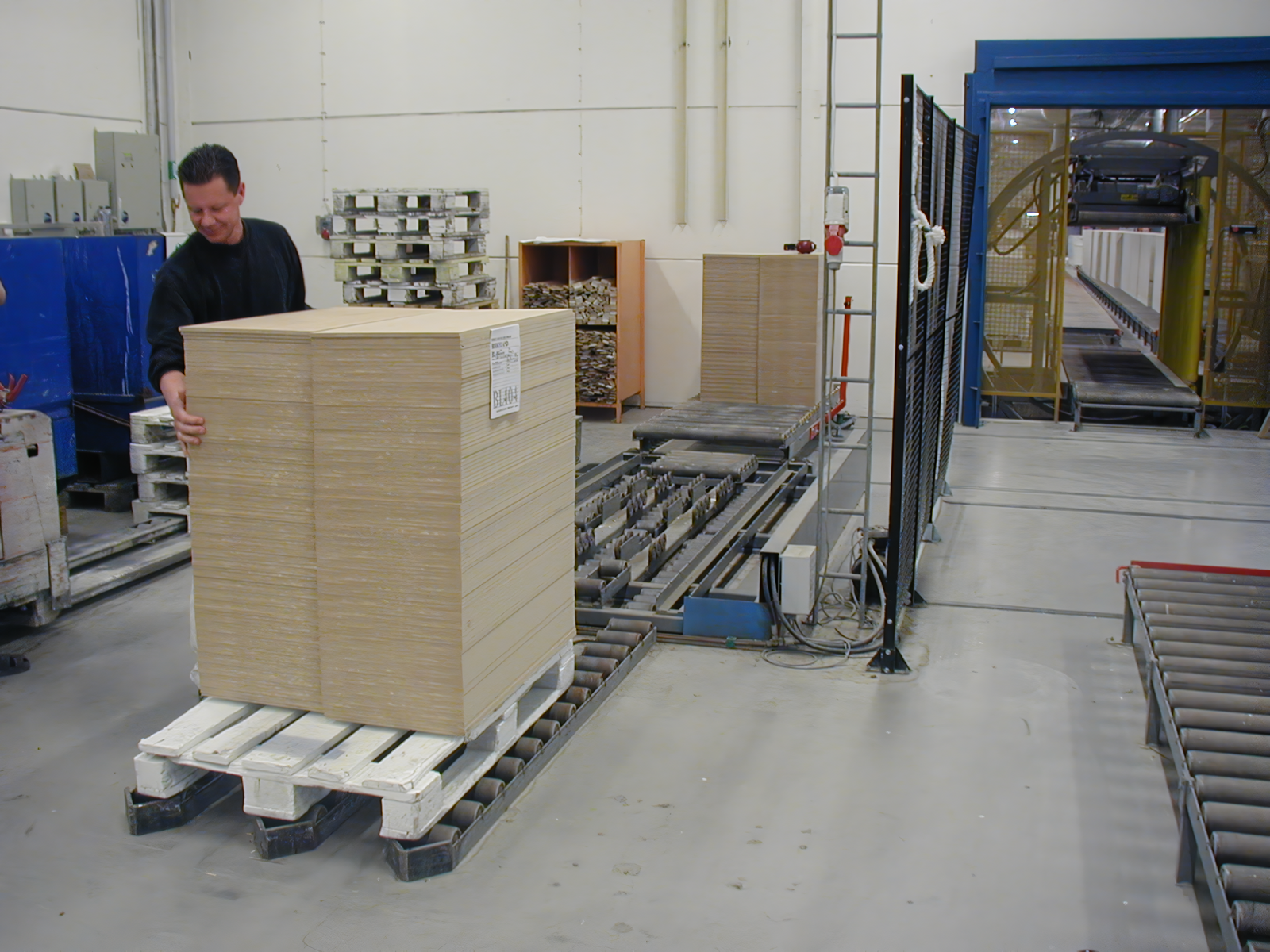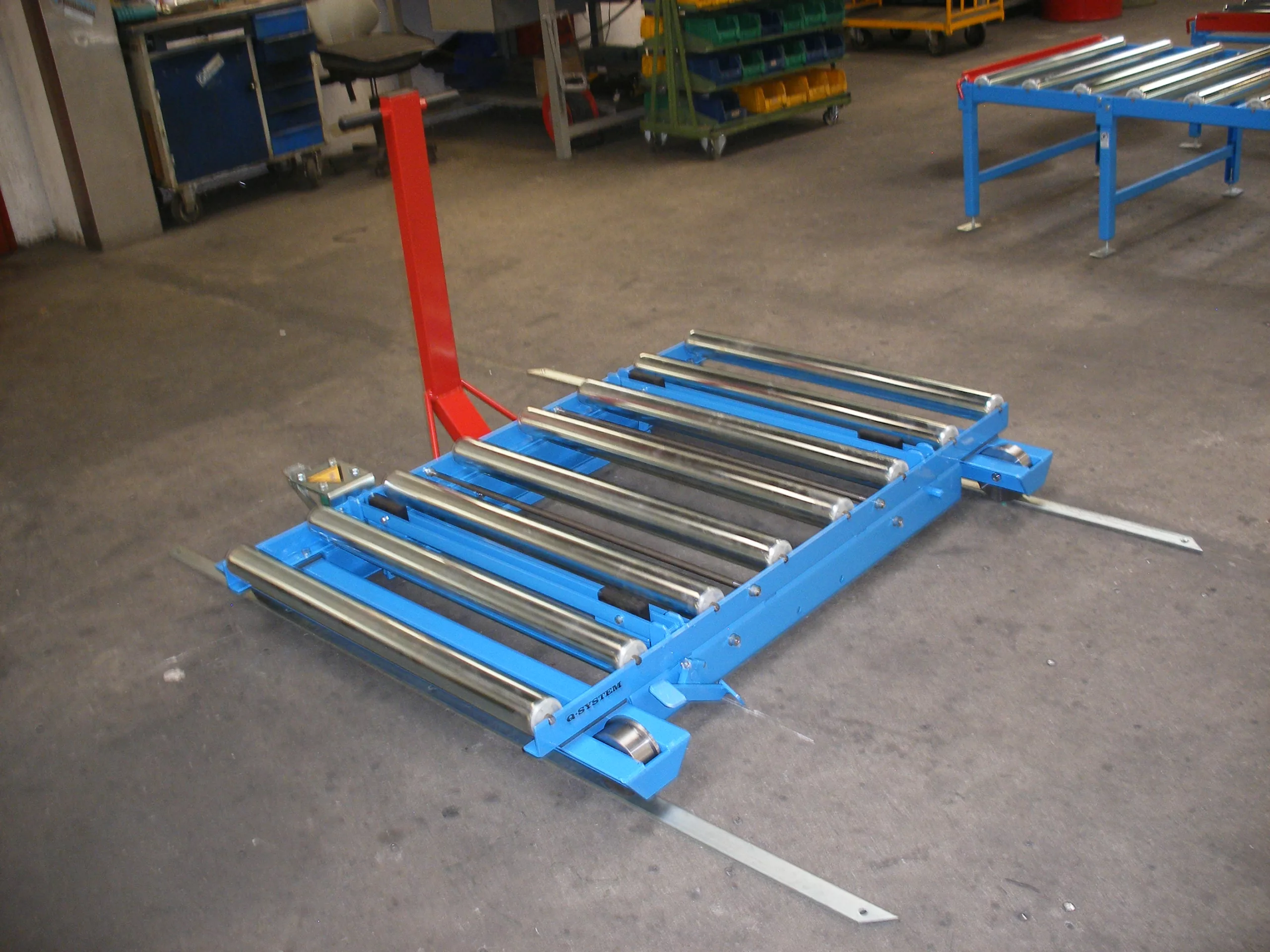 The transportation of goods is easily done through manual pushing, requiring only a force of 15 kg to start and move a stack weighing 1000 kg. The required force for starting and moving can be reduced with smaller roller spacing. The conveyors can be provided with fixed and tiltable end stops, ensuring easy, fast, and secure removal of the goods.
Undriven Roller Conveyor Q70
The undriven roller conveyor system is traditionally used as an intermediate storage between processing machines. With a load capacity of 1000 kg/m, the system is designed for operation with or without bottom plates, as the roller surface is completely smooth. When using bottom plates longer than the stack length, the bottom plate functions as a fender.
The conveyors can be provided with fixed and tiltable end stops for easy, fast, and secure removal of the goods.
Q70 Curve Conveyor
The curve conveyor is available in 45, 90, and 180 degrees and is equipped with tapered and segmented rollers.
Plate and Pallet Extraction Roller Conveyor
Our plate and pallet extraction roller conveyor is a versatile and efficient solution for transporting medium-heavy goods such as pallets and stacks.
This conveyor system is specifically designed to ensure seamless movement and handling of various load types. It is future-proof with a modular design that allows for easy customization, expansion, and modification of the conveyor's length and functions.
Push-pull trolley with roller conveyor
used for transporting items to and from warehouse roller conveyors.
Swivel angle transfer
Used for changing the direction of items in the longitudinal direction of the conveyor. The angle transfer is built with 4 pieces of ø200 mm nylon wheels, 2 item brakes, and a guide pin that is fastened to the floor. The placement of the guide pin is optional.
I-Frame
provides double utilization of the storage area and reduces the transport distance for goods. The modular design of the Q70 conveyor system allows existing driven Q-conveyors and end stops to be reused in the I-frame.
The I-frame is constructed as a very sturdy structure, ensuring full stability even when subjected to a unilateral load of 600 kg/m on the top floor.
Pallet Changer
The pallet changer is used to depalletize a stack, possibly placed on a mobile platform, from a EUR-pallet to a roller conveyor.
In the opposite direction, the pallet changer can be used to palletize a stack from the roller conveyor onto a EUR-pallet.
The pallet changer is positioned between a three-part roller conveyor, length 1500 mm, height 88 mm, and a roller conveyor with length 3000 mm, height 300 mm.
Manual transfer trolley with undriven roller conveyor
Comes with a push handle, 2 item brakes, and foot-operated parking brake.
Manual turntable
A manual turntable is a useful device for changing the direction of goods through manual force. It facilitates the handling of items and ensures quick and efficient adjustment of position.
Lifting table
The electro-hydraulic lifting table provides easy handling of large and heavy items.
Furthermore, it ensures correct ergonomic working positions for employees, eliminating heavy lifting.
The lifting table can be installed on the floor or in a pit.
The lifting table is operated via foot or hand control. Can be equipped with pneumatic or mechanical item brakes, allowing the item to be stopped at a desired location on the conveyor.
Can be supplied with a driven or non-driven roller conveyor.
Q70 Plus Kit
You can convert your driven Q70 roller conveyors yourself in just fifteen minutes!
With the Q70Plus, you can add power to a 6-meter driven Q70 roller conveyor with specifications B=600, C-C 150 and 200 mm, H=300 mm.
The speed of the conveyor will be 13.5 m/min, and the total capacity will be 2000 kg.
The kit does not include electrical controls, as you can customize the controls according to your needs.
If you have any questions, need further information, or would like to discuss your specific requirements with our team of experts, please don't hesitate to contact us. We are here to help you find the ideal solution for your transportation needs.