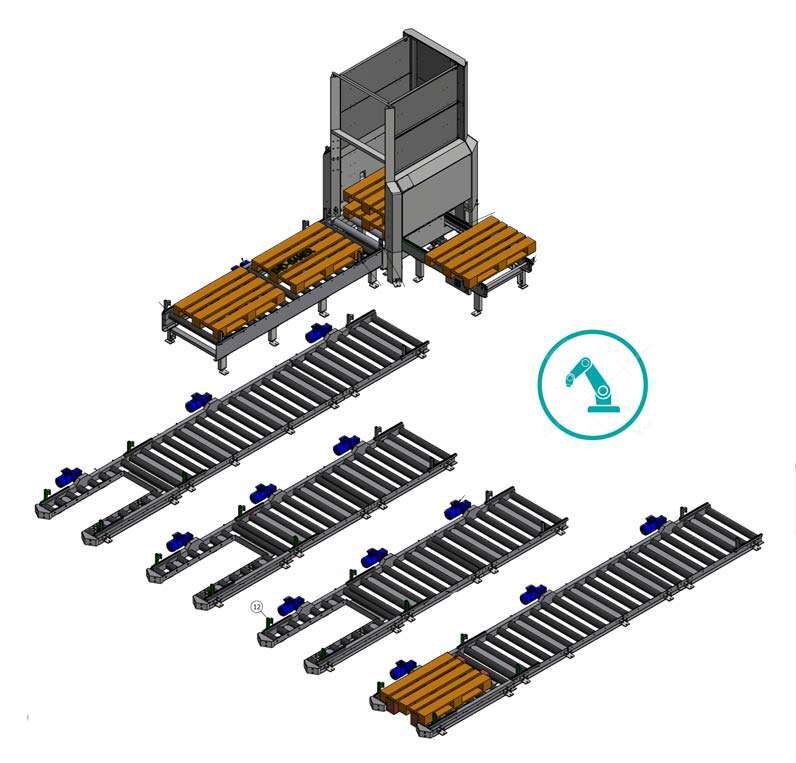 Usually the robotic palletising is carried out on driven roller conveyors of height 350 – 500 mm. This time, however, the height is only 160 mm. The reason is that the full pallets are going to be removed using a manual pump truck, which cannot lift high.
Additionally, the conveyor system comprises an automatic pallet dispenser with in- and outfeed conveyors of height 350 mm as the pallet stacks are placed on the conveyor by forklift truck.
A few days ago we had the FAT test of the system, which was bought by the robotic integrator Mach-Tech who deliver the robot and the electrical control. The plant is going to be installed at a recognized Danish manufacturer of workwear and footwear.
In Short, This is the Function of the Plant When the system is started up for the first time a pallet stack is placed on the infeed conveyor of the pallet dispenser. The stack runs automatically into the pallet dispenser, which will send a single pallet out on the chain conveyor. Here it stands ready for being picked up by the robot and placed on one of the four palletizing conveyors. Now the robot starts taking single boxes from the two existing conveyors and places them one by one on the empty pallet.
When the pallet is full it will automatically step one pallet space ahead so that there is free space for the next empty pallet. This procedure goes on until the conveyor is full. It is however, possible to "call" the pallet/pallets to the outfeed end if you wish so.
Palletising by robot is quick. Therefore, there are three additional conveyors for the robot to palletise on if the first conveyor is full.
The conveyor system is going to be shipped in the near future.